Watch Adrian Molina's poetic invocation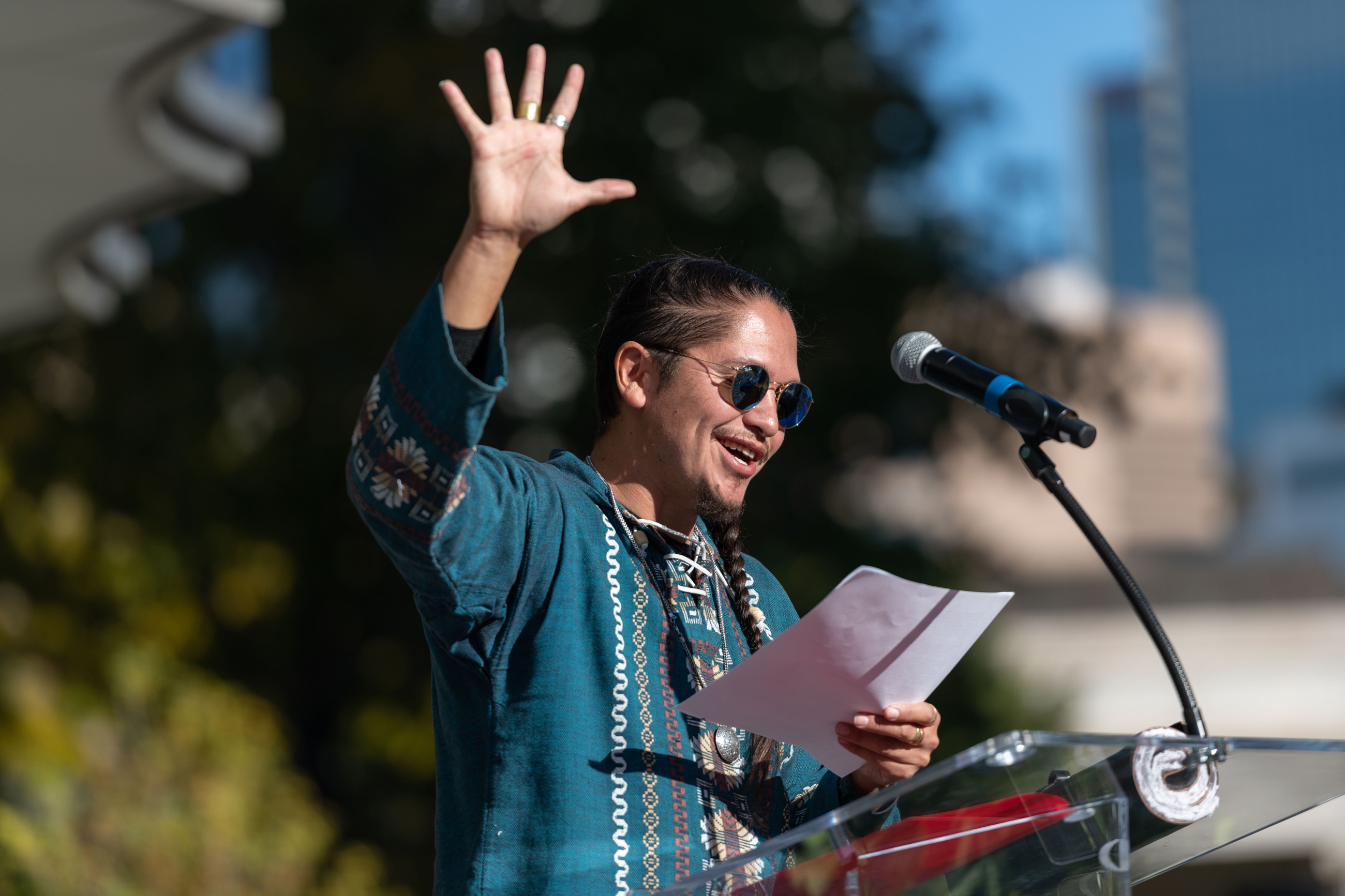 poet and artist Adrian H. Molina, also known as Molina Speaks, wrote and performed a poetic invocation for the ribbon-cutting ceremony at the Denver Art Museum's opening day celebration of the reimagined Lanny & Sharon Martin building and new Sie Visitor Center last fall . As we planned for when we would reopen the building to the public, we knew it was essential to bring many voices and community members into the celebration. Additionally, we decided it was important that the last word spoken at the inauguration event come from a member of the community, and not from the museum, as a symbol of welcoming visitors back. their Denver Art Museum.
The Sie Visitor Center was envisioned as open arms to the Denver Art Museum, highlighting a space for creative expression and community building, and so we wanted the performances during the ribbon cutting, especially that last moment before the ribbon was cut and the doors were opened, to talk about the power of creativity and connection.
Heather Nielsen, Director of Learning and Engagement, and I met Adrian at the museum to talk about the ideas and processes that informed the gallery's renovation, design choices and relocations. We shared a story of architect Jorge Silvetti using a classic still life painting to demonstrate his vision for the hospitality center – in a slide he showed the painting, a rather understated table setting, but something was clearly missing; in the next, he rendered the element he had removed, a bright, fresh orange that brought all the objects together and made the scene more alive, more complete. The museum campus needed an orange, he told us, to bring the Hamilton Building and the Martin Building closer together. Adrian creatively incorporated this story into the invocation with a line on the fruit-inspired welcome center.
Over the next week, Adrian visited the museum several times – sometimes alone, other times with his family (he shares a story in the poem about his experience in Latin American and art galleries of the Americas old with his son) – observing the details, experiencing the atmosphere of each new space, and seeing "all the spirits housed on the second, third and fourth floors escape from their platforms, boxes and display cases…[to] get together on the roof and… dance together wildly.
The result of those moments spent in the new galleries was "A Poetic Invocation to Reimagining," which Adrian shared live at the inaugural event. To share the poem with audiences near and far, now and in the future, we asked Adrian, along with videographer Mary Grace Legg, to recreate it in a video format that brings the words and inspiration of Adrian. Take a look below – we hope you enjoy it!