the National Gallery to become the first major national art museum to reopen in the UK.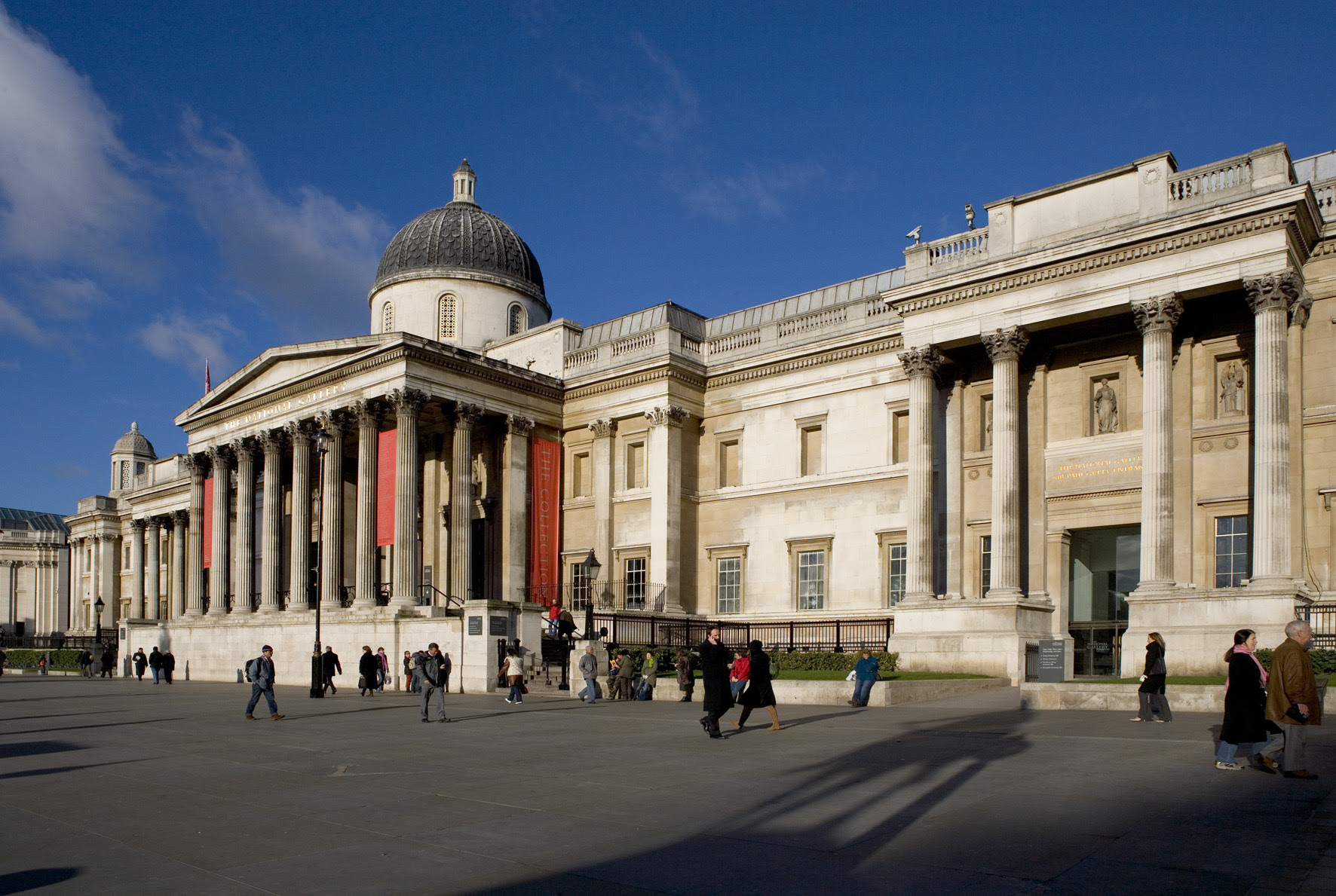 After an unprecedented 111 days with its doors closed, the National Gallery will resume welcoming visitors on Wednesday July 8 – the first major national art museum to reopen in the UK after the coronavirus shutdown.
The decision to reopen was based on government guidelines. In line with best practices learned from European and American museum colleagues, all tours will be booked online and in advance.
Entrance is via the Sainsbury Wing entrance and exit via the Getty Entrance; there will be 2m social distancing measures in place throughout the gallery. As part of the National Gallery's new security measures, they've set up three one-way art routes to guide you through different areas of the collection.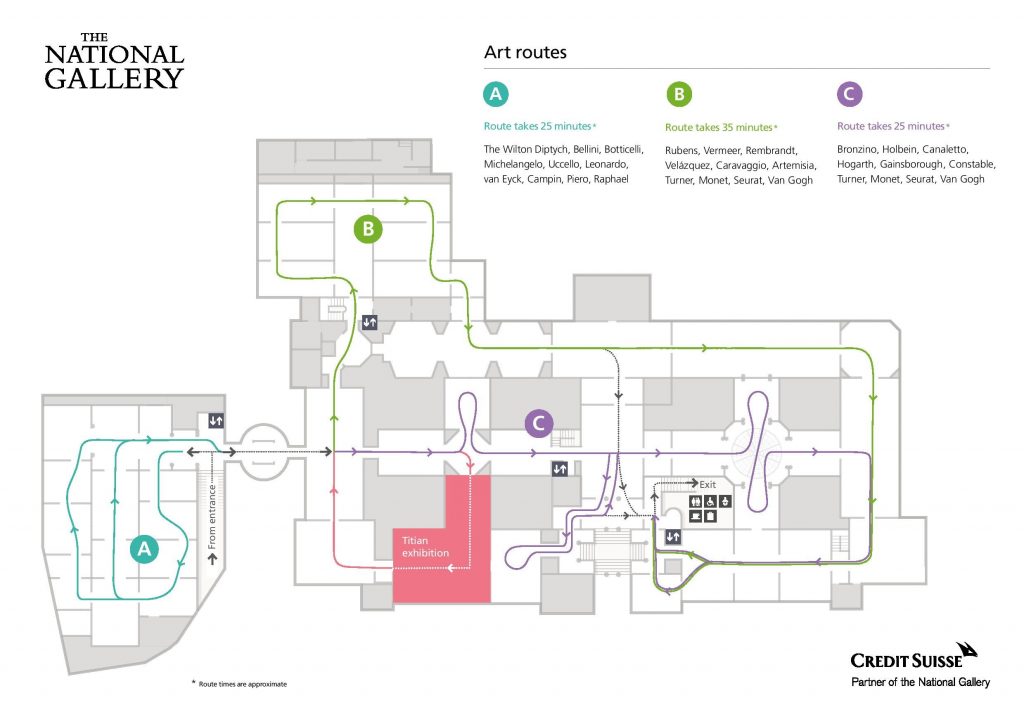 You will be able to download a map online before your visit or view it on your smartphone, and visitors will be able to access detailed information about each painting through the Gallery website. As you travel the art routes, you can also get additional information by downloading the Smartify app for free and using your phone to scan the paintings.
The universally acclaimed exhibition Titian: Love, Desire, Death, which had to close after only 3 days, will also reopen and has been extended until January 17, 2021. Nicolaes Maes: Dutch Master of the Golden Age was also extended, until September 20, 2020.
"Providing a safe and enjoyable experience is our priority; to achieve this, an improved cleaning regime will be implemented. We have installed more efficient filters in the air conditioning system throughout the gallery and are increasing the flow of fresh air. Protective plexiglass panels will be in place at counters and information desks, as well as counters in shops and cafes, and there will be plenty of hand sanitizer at regular intervals throughout the building. To further reassure that the National Gallery is a safe place to work and visit, we have provided personal protective equipment for our staff (including face masks, gloves and goggles) and we also recommend all our visitors to wear a face cover during their stay. visit."
There are a lot of exciting new things to see in the Gallery when it reopens:
• Room 32 – the largest and one of the most visited rooms in the gallery featuring 17th century Italian paintings by artists such as Caravaggio, Artemisia and Orazio Gentileschi, Guido Reni and Guercino – will reopen after a renovation project of 21 months, like Julia and Hans Room Rausing. With their support, the Gallery restored the decorative design of its original architect, Edward M Barry, replaced wood floors and wall fabrics, and installed an air conditioning system.
• A number of newly acquired paintings – Liotard's Breakfast of the Lavergne Family (1754), Margaret Gainsborough's Portrait of Gainsborough Holding a Theorbo (circa 1777) and our very first Sorolla (The Drunkard, Zaraúz, 1910) .
• The Equestrian Portrait of Charles I recently restored by Van Dyck (c. 1637/8) will be back in room 21 after more than two years. This monumental work (measuring 367 × 292.1 cm) has been outside the exhibition since September 2017 and is currently being kept.
• Some new and ambitious hooks in the Dutch and British collections, including the two works by Turner (Dido Building Carthage (1815) and Sun Rising through Vapor (before 1807)) which still hang with A Seaport (1644) and The Mill (1648) by Claude in accordance with Turner's will, transferred from room 15 to the dramatic decor of the Barry rooms.
Dr Gabriele Finaldi, director of the National Gallery in London, says
"The prospect of reopening is extremely exciting. I believe there is also something symbolic about the Museum being the first major national art museum to reopen. We want to be part of the nation's recovery story and by opening the doors and allowing the public to come back to see our inspiring images, we want to make a significant contribution to the process. When you visit, you will notice that we have made some changes. These help us put your safety and that of our staff first, but we're the same gallery you know and love, with just added social distancing and one-way art routes. The National Gallery will be open again soon and we are ready to welcome you again.
Entrance and tickets
There are three ways to book a tour at www.nationalgallery.org.uk
• Members go free to Titian and to our other exhibitions
• Entrance to the gallery + Titian (visit our 5-star exhibition Titian: Love, Desire, Death and discover our collection)
• Entrance to the gallery (a free ticket to see our collection and Nicolaes Maes: Dutch master of the golden age)
Artistic paths
* Visitors can choose to explore Route A, as well as Route B or Route C. Routes B and C pass through the Impressionist Galleries and end at restrooms, cafe, shop, and exit.
• Route A – See some of the early works in the collection, including Botticelli, van Eyck, Leonardo, Memling, Michelangelo, Raphael, Piero and Uccello.
• Route B – Travel from Venice to the English countryside and discover artists such as Bronzino, Canaletto, Gainsborough, Hogarth, Holbein, Monet, Seurat, Turner and Van Gogh.
• Route C – Witness dramatic moments by candlelight and gaze at serene interior scenes and see artists such as Caravaggio, Rubens, Velázquez, Vermeer, Rembrandt, Monet, Seurat, Turner and Van Gogh.
Some of our rooms will not be open, especially the small cabinet rooms.
Open 7 days a week from 11 a.m. to 4 p.m., Friday from 11 a.m. to 9 p.m. and a reduced maximum visitor capacity. The Getty Shop will be open, as will the National Café, which will offer a take-out offer.
Categories
Key words
Author
Marc Westall
Mark Westall is the founder and editor-in-chief of FAD magazine Founder and co-editor of Art of Conversation and founder of the @worldoffad platform