The first Land Art Festival in India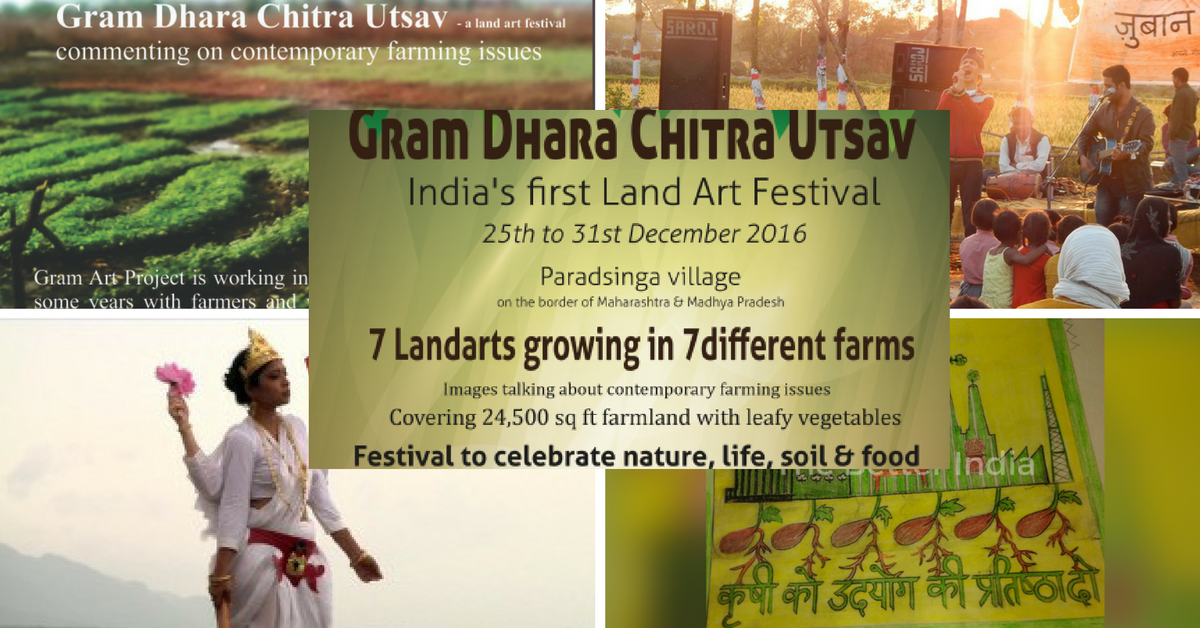 At the start of each new year, we thank everyone who made the previous one wonderful. Along with your loved ones, it is time to also thank those who are responsible for the food on your plate, the farmers. So come join this group of enthusiastic artists and farmers to start 2017 with music, dance, art and joy by staying with a villager at India's first land art festival. – 'Gram Dhara Chitra Utsav' – scheduled from December 25 to 31. in the village of Paradsinga in Madhya Pradesh.
VSConsider this: five artists from different states of India, five social workers working on the problems of farmers in the Vidarbha region of Maharashtra, a writer from Pune, a psychologist from the Netherlands, a choreographer from Nagpur, a young singer as well as farmers and young volunteers from Paradsinga village will all converge in one place to interact and collaborate with each other. Their joint effort will result in seven significant images highlighting contemporary agricultural issues and seven unique paintings that will reflect those issues. And unique because they will not be drawn on just any canvas or paper but in the farms.
Seeds have been sown at seven different farms in Paradsinga village covering 24,500 square feet of farmland with red and green leafy vegetables, which will grow in the form of these paintings.
This is what will do the "Gram Dhara Chitra Utsav", the first land art festival in India, which will take place from December 25 to 31 in the village of Paradsinga in Madhya Pradesh. The festival is also open to everyone to play, paint, sing, sculpt, click, sow, cultivate, cook, stay, learn, enjoy and collaborate to make it even more meaningful.
"We are not an NGO or an organization; we are a group of artists, farmers and people from various other fields who believe that art and agriculture can be catalysts for social change. We celebrate this festival because we feel a strong need for celebrations of a different kind that bring the community together at a stage beyond power, religion and caste to celebrate nature, life, soil and food, "said artist Shweta Bhatad. of the Gram Art residence.
The calendar of activities
December 24
If you arrive there on the evening of December 24, you can attend a magic show hosted by Maharashtra Andhashraddha Nirmoolan Samiti (Maharashtra Blind Faith Eradication Committee). The show will be followed by a snake awareness program, titled 'Know Your Snakes' by Sarpmitra.
December 25th
A performance of mural painting by artists from the Sasatwa Foundation, Orissa in the morning.
Inauguration of the seed festival in the afternoon.
Revolutionary agricultural songs from Prabhakar Devtale and Group in the evening.
Prabhakar Devtale and his wife are organic farmers. Their children also joined them in agriculture although they had an engineering degree. This is a group of like-minded urban farming couples and families who now have an orchestra that plays only farming-related songs.
December 26
A participatory mass show for all those present at the festival on a farm in the morning.
International artist Shweta Bhattad will also present one of her best performances titled 'Faith'.
There will be a presentation by progressive organic farmers on their success stories in agriculture and value adding agricultural products at Bazar Chowk, Pardsinga in the evening.
December 27
The music group 'Zubaan' will present a performance of their independent songs. This group organizes concerts and collaborates with artists from the mainstream / local music industries to consolidate into one independent music industry. In this concert, farmer-artists and performers from Nagpur, Mumbai, Paradsinga and Sewagram will collaborate and present their songs.
From 28 to 31 December
You can explore village life and connect with farmers and artists as well as learn skills such as making Chulhas (mud stove), cattle grazing, working on farms with farmers, making your own land art on a small farm and a tour of the seven land arts.
Interestingly, a group of cyclists will travel all the way from Nagpur to join in the festivities.
You can be an integral part of this festival by choosing to stay with a farming family for just Rs 310 per day. This would include morning tea, breakfast, lunch, dinner, and a bed to sleep on.
How to reach
Paradsinga is 55 km from Nagpur, Maharashtra. Direct buses from Nagpur to Paradsinga are available from MP bus station near Nagpur Main Station and it takes around an hour's journey.
If you are coming from Madhya Pradesh, you can take a direct bus from Chhindawara to Paradsinga, which is a 70 km trip and takes about an hour and a half.
This is a crowd-funded event and your monetary contributions are welcome and needed.
To learn more about the event, please email [email protected] or call 09373112912/09373112320. Website: www.gramartproject.org.
Do you like this story? Or have something to share? Email us: [email protected], or connect with us on Facebook and Twitter.
NEW: Click here to get positive news on Whatsapp!