"Roots & Routes" Senior Art Exhibition – The Wayne Stater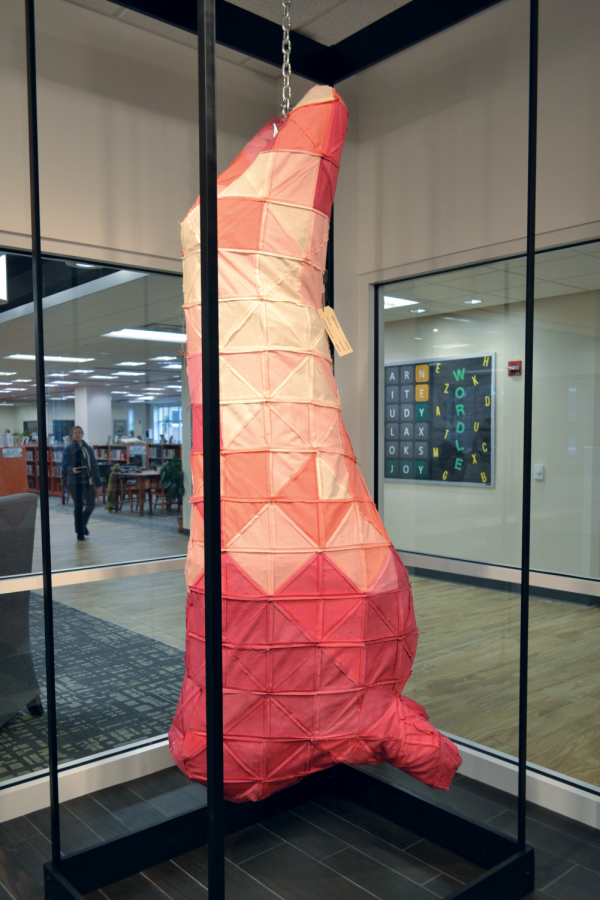 The Roots and Routes Senior Art Exhibition had its opening reception at Conn Library's Nordstrand Visual Arts Gallery at 4:30 p.m. on Wednesday, March 23.
The exhibition highlights the works of four of Wayne State College's seniors: Alba Laredo Luster, Abby Olson, Clark Koppelmann, and Bridget Tranmer. The exhibition is free and open to the public until April 13 at noon.
Beatriz Rodriguez, who teaches the senior art exhibit class at WSC, said the inspiration behind the class and exhibit was to show students growth and prepare them for their future.
"We noticed they had correlations between nature, family, and a trip throughout, so the show leans very heavily on that," Rodriguez said. "For people who see this, they can experience art that is a journey for students, and they can see everyone's unique interests and viewpoints."
She also said the show is a great opportunity for families to see their children's growth and for them to see what their job is like in a professional setting.
"For people who see this, they're experiencing art that's a journey for students, and they can see everyone's unique interests and perspectives," Rodriguez said.
Olson said most of his work for the show was inspired by where he comes from and what his family does.
"We come from a farming and ranching background, and that really shaped who I am," Olson said.
His piece, "Love and Care", was created to show the impact of multiples, inspired by Andy Warhol's screen-printed consumer products and their rapid distribution.
"I wanted to do the same with my family's product – cattle – to show that despite the fact that we have so many, we still love and care for each cow," Olson said. "It's very important that people understand where their food comes from and the immense amount of work and energy that goes into providing it."
Luster also opened up about her artwork, saying she wanted to emphasize her connection to her family and her Latino community. Several of her pieces represent her as well as her journey as an immigrant and a dreamer.
"The butterflies in my pieces not only represent me, but also my community, as monarch butterflies migrate through Mexico, Canada and the United States," Luster said. "I identify as a butterfly because of their journey, but also because they grow up."
She wants those who see her pieces to understand the struggles Latinos have and the journeys they have to go through.
"It's not just me going through them," Luster said. "Other Latinos are also going through the same struggles. We are a community and I want to show them that this is not just for me, but for all Latinos.