Outdoor interactive art exhibition 'Kura Moana' is coming to Wellington's waterfront this month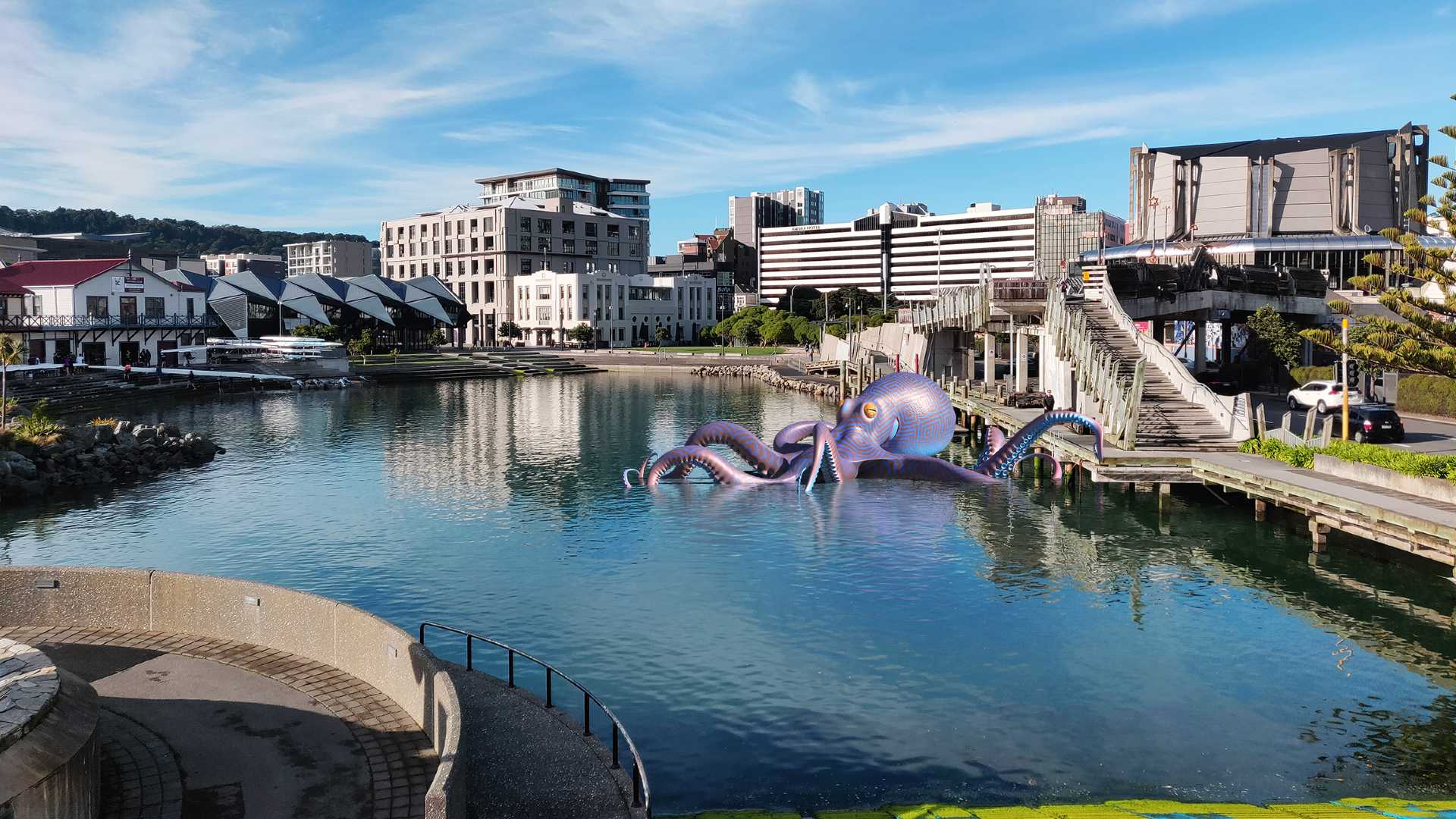 Some giant sea creatures are coming to Wellington's waterfront, but no, you don't need to panic if you work in the city's CBD. A series of interactive outdoor installations are appearing in the capital, as a way to elevate the city after some extremely difficult years.
While a large part of the Aotearoa Arts Festival New Zealand 2022 has unfortunately been canned under the country's current red status under the country's COVID-19 protective traffic lights, the festival has pivoted to online and outdoor offerings, including a new outdoor sculptural exhibition air Kura Moana.
The work of festival artist Lisa Reihana consists of six outdoor installations arriving on February 25. Citizens of Pōneke will be able to put on their trainers and go on a scavenger hunt around the waterfront to find each installation that tells a local story in an exciting way – there's music, song, playful inflatable sculptures and even an augmented reality experience. Yes, a map is on the way to help you find each one.
"Kura Moana focuses on Te Moananui a-Kiwa, the great ocean, and its role as a connector between Aotearoa and across all Pacific nations," Reihana said. "I have created a series of installations that invite families and communities to experience iconic places on the Wellington waterfront in new ways, to reflect on some of the local histories and stories that relate to this place.
"It's about travellers, those who have dared to cross the Pacific, people looking for something new, another life."
This outdoor family work will run for three weeks from Friday February 25 to Sunday March 20, allowing groups, friends and whānau to enjoy the experience safely and at their own pace.
Other festival exhibits that can be safely shown at a red light will also be on display during the revised festival schedule, including gallery exhibits Hilma af Klint: The Secret Paintings to City Gallery Wellington and Intergalactic Adventure Experience Goal Mars to your dad. There are also a series of offers online for those who prefer to enjoy the festival safely at home.
Kura Moana will be on display on Wellington's waterfront from February 25 to March 20. For more information on the sculptures or artist Lisa Reihana, see the official website of the festival.
Posted on February 15, 2022 by
Sarah Templeton