New Hyde Park art exhibition explores no contact during the pandemic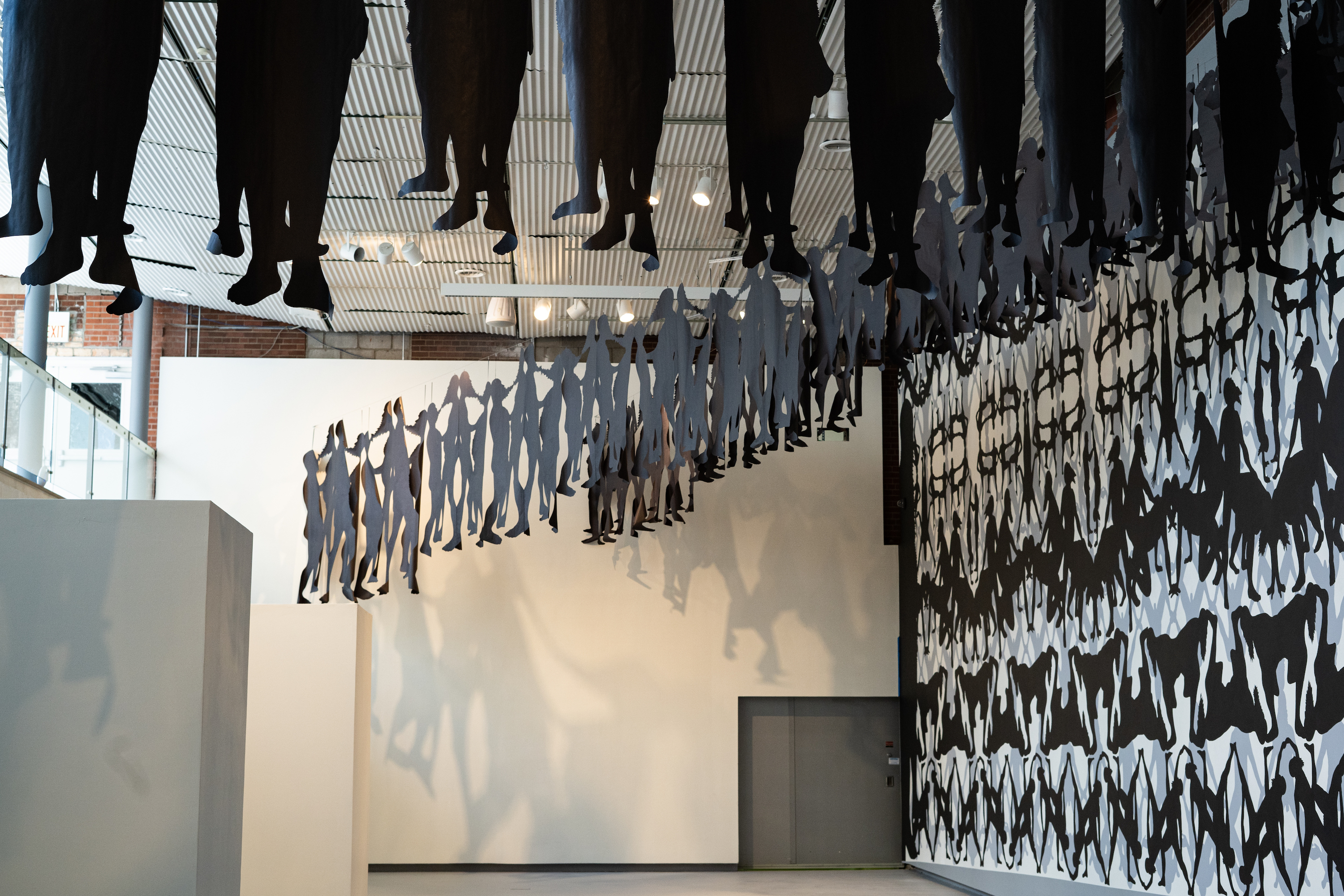 The COVID-19 pandemic has forced most of us to deal with intense feelings – from grief, love, loss, loneliness and isolation to gratitude and connection. You can explore many of these themes at love to repeata new art installation at the Hyde Park Art Center by longtime married collaborators Dutes Miller and Stan Shellabarger, which will open on April 23.
The exhibitionwhich takes its name from Gertrude Stein American manufacturing, is an immersive multimedia installation that addresses the presence and absence of human contact during the COVID-19 pandemic. Shellabarger says this new work is a continuation of their previous collaboration – the use of their signature style of the silhouettes of each other's bodies, the presence and absence of the body, and the repetition of daily activities over time.
"The touch of your lover or family or friends on your shoulder is so reassuring," Miller says. "It's taken for granted and then it's not there."
Much of Miller and Shellabarger's work over the past 25 years has centered on the bonds, loneliness and loss felt throughout the relationship over time, all themes that the COVID-19 pandemic has brought prominent for many people. In class Untitled (Hook)which the artists have been working on since 2005, Miller and Shellabarger sit for hours crocheting at either end of an ever-growing pink tube, a cord that gradually separates the couple, tying them together.
Shellabarger says the COVID-19 pandemic has changed artists' solo practices more than their collaborative art practice – after decades of creating together, he says the two have a very easy time collaborating, saying they're "promiscuous" of never say no to each other's ideas – but if someone is unconvinced or doesn't understand an idea, they will be put on hold for further discussion.
"We often walk together and talk about our work and what's going on in our daily lives, and it all comes together," Miller says. "The resulting artwork becomes the physical manifestation of those very long conversations we had during our time together."
Along with a 55ft paper-cut garland, the installation includes a 20ft by 80ft hand-painted mural, which will take up an entire gallery wall, marking the first time the artists have created a mural. painted. And it's not the only new medium for Miller and Shellabarger – they also collaborated with Canadian videographer Steve Reinke to create multi-channel video projection.
"It was fun trying to push the materials as far as we could," says Shellabarger.
There will also be performances and interactive programs during the exhibition, including several life-long performances Untitled (Hook). Saturday, April 23 during the Center's Open Arts Day and on Sunday July 10 at the Hyde Park Farmers Market, guests can join Miller and Shellabarger in making paper cranes for their facility, Burnt. On Saturday, July 16 from 4-6 p.m., the Center will host Miller and Shellabarger, along with artist couples Candace Hunter and Arthur Wright, and J. Kent and Andrew Bearnot, for light bites, drinks and a chat about "what what it means to live, work and love together.
At the end of the exhibit in September, Miller and Shellabarger will hold a bonfire to burn the paper chain and cranes, and the ashes will be placed in a pine box as part of their ongoing play, burnt. Paper objects from two other exhibits (one in Baltimore and one in Chicago) have already been similarly burned and stored, and these pine boxes will be on display as part of love to repeat. Even the mural and the video will no longer appear the same.
"It reinforces the idea of ​​mortality, that work of art that is supposed to be archival or monumental or kept for the future is just as temporary as our bodies," says Miller.
The bonfire creates a connection between the celebration of the culmination of work and community and the feeling of mourning. "It's not sad that work is gone, but we know that as we get older, more people we know die," Miller says. "It's that reminder of all the things to come and all the things that have happened that need to be mourned and then the event becomes fun again."
Miller and Shellabarger hope that people who attend the exhibition begin to understand and appreciate the small moments in their lives and the importance of their relationships with other humans in giving meaning to life.
"Maybe you're celebrating a birthday, or going on vacation, or you went to see a show, or a friend's wedding," Shellabarger says. "There's a lot going on between those times, and it takes up a lot of your life, and I hope people pay attention to that."
love to repeat will be on display until September 3 at the Hyde Park Art Center, 5020 S. Cornell Ave. Visit the center schedule for a complete schedule of programs relating to the work of Miller and Shellabarger.