Navajo weavings at Montclair Art Museum reveal innovations in color and abstraction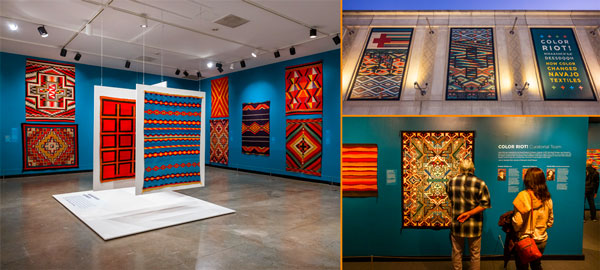 NEW | CHARACTERISTICS | OVERVIEW | EVENTS
By Ilène Dubé, JerseyArts.com
originally published: 09/30/2021
The debate over whether it was Kandinsky or Hilma af Klint who created the first abstract painting falls into perspective during the visit Riot of color! How color changed Navajo textiles, to see at Montclair Art Museum until January 2, 2022.
Even though this viewer was prepared by the title of the exhibition, seeing these woven works remained dazzled.
One of the labels notes that the brightly colored threads have faded over time, but it's impossible to imagine brighter reds and ochres.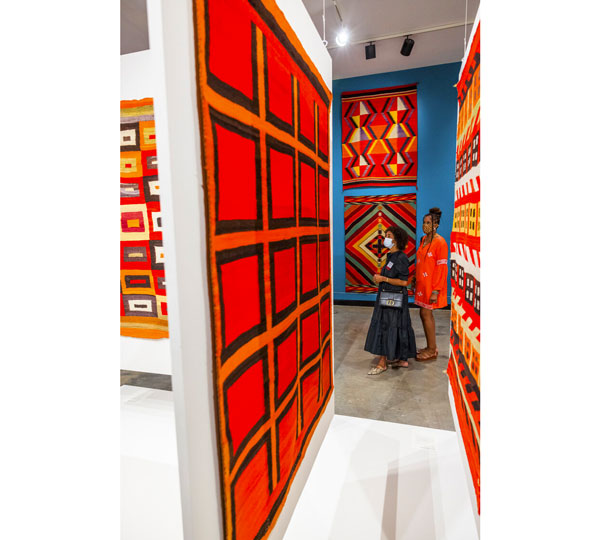 I wondered if Piet Mondrian or Paul Klee had been influenced by Navajo design, but unlike those legendary artists, the names of the weavers – and most of them were women – did not survive alongside their works – exhibition labels say "Artist Once Known". "
The exhibition at Montclair, which has brought together Native American art since its founding in 1914, is rooted in the experiences of the Diné, or Navajo, and shows "landmark works and their historical contexts from the perspective of Native co-curators and artists. "Says Laura Allen, curator of Native American art and coordinator of the exhibition.
Advertise with New Jersey Stage for $ 50 to $ 100 per month, click here for more information
---
"We want to show the social and technological changes that have created new color and shape opportunities for textile weavers. "
Originating from the Heard Museum in Phoenix, Arizona, the exhibit shows how, using abstraction, balance and manual labor, "the weavers of the 1800s were bursting with creativity. The work explodes with ideas and intentions. Despite the complex calculations required to set up a loom, most Navajo artists started out without a sketch, working from their vision.
As I reflect on the influence of the Navajo on the Modernists, the Navajo themselves have been influenced by Hispanic and Mexican weavings. There are also weaves that may have been influenced by an American quilt design and the pattern of a linoleum floor. "It illustrates the cross-cultural history of art," Allen continues.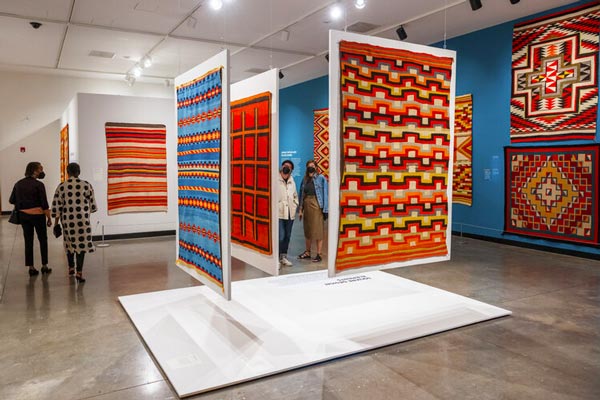 One section of the exhibit focuses on weavings made by contemporary Navajo artists, using today's looms much like those of their ancestors – none of the looms rely on digital technology. However, unlike historical weavings, contemporary works are all attributed to named artists and accompanied by statements, some of which describe responses to the world we live in today.
"I continue to maintain the traditions of my culture in weaving, because it spiritually represents a gift offered by our ancestral grandmothers," writes artist Marilou Schultz. "My traditional Navajo way of life and the way I think and react to the world around me all give a great influence on the form, patterns and artistry of my rugs and tapestries. "
Between 1863 and 1868, the US government forcibly marched 10,000 Navajo personnel over 300 miles to the Bosque Redondo internment camp at Fort Sumner, New Mexico. Many died during the trip or suffered further brutality and ill-treatment in the camp. In 1868, the survivors signed a treaty allowing them to return to their homeland and establish the sovereign Navajo nation.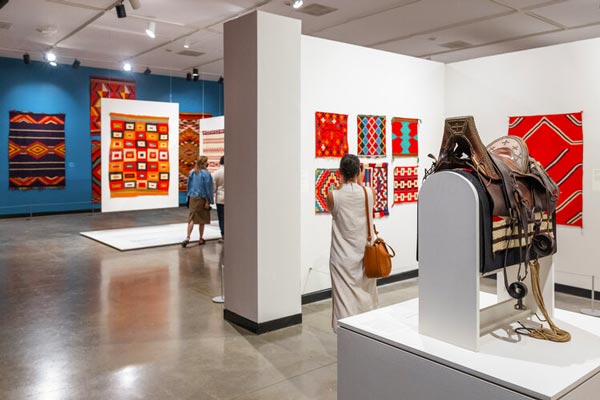 According to exhibition documents, weavers had unprecedented freedom to experiment with sovereignty. They used mass-produced woolen yarns from the Germantown neighborhood of Philadelphia, brightly colored from aniline dyes (before that the dyes were made from natural materials such as sumac, pine gum , indigo and cochineal).
Influenced by the Hispanic textiles they had seen during their internment, the "vivid expressions of ingenuity and autonomy of the weavers made in the decades after Bosque Redondo… testify to the resilience of Navajo communities and the possible innovation." Among the influences of Hispanic textiles was a vertical orientation.
Velma Kee Craig, Diné du Heard co-curator, says the weavings here "are creations of weavers who have woven for themselves – they are vibrant and unrestricted in both color and design."
Weaving was an essential way to heal from the trauma of internment. In addition, Navajo communities became impoverished after imprisonment, and weavings were a means of rebuilding.
Early weavings were utilitarian, from chief's blankets and coming-of-age dresses and serapes, to blankets and door coverings for hogans (dwellings). These have been widely traded.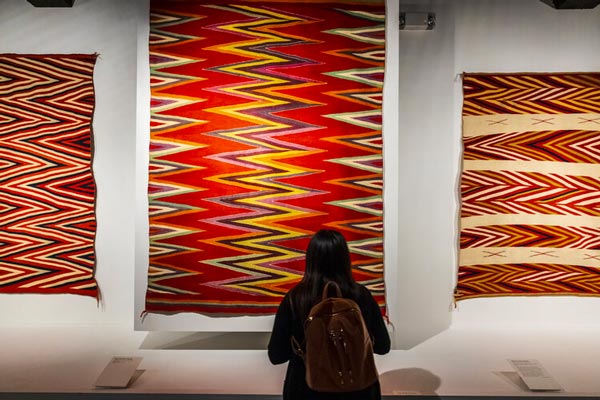 Advertise with New Jersey Stage for $ 50 to $ 100 per month, click here for more information
---
The railroad arrived in the southwest in the 1880s, bringing an influx of non-native tourists. Fred Harvey, the hospitality scion who developed hotels and restaurants for rail travelers, especially at the Grand Canyon, relied on Native American design aesthetics to galvanize tourism in the Southwest.
In the 1890s, non-Native traders came up with design layouts in an attempt to appeal to Euro-American tastes. The colors faded and the designs were adapted to suit Victorian homes. Riot of color! remains focused on the post-internment period, when the weavers strongly reflected their own design ideas.
The sheep from which the wool comes were not native to the Americas; they were bred with sheep brought to the mainland by the Spanish conquistadors in the 1600s and became the first domesticated sheep in the New World. Low in lanolin, Navajo-Churro fleece requires little water for washing and can be spun directly from raw fleece without tedious carding. The yarn spun from this type of wool is extremely strong and durable. But in the 1860s, with Westward Expansion, sheep, which had become an integral part of Navajo life and culture, were slaughtered by American troops.
Researchers believe that the Diné, whose reservation straddles more than 27,000 square miles of land in Arizona, Utah, and New Mexico, were people originally from northwestern Canada and first settled in the southwest during or after the 14th century. Inspired by the environment they saw, the weavers created patterns with diamond, cross and zigzag shapes. Some were used in ceremonies and one weave has a Spider Woman hole in its center for the weaver's spirit to pass through when the job is done – in Navajo lore it was Spider Woman who taught them to weave.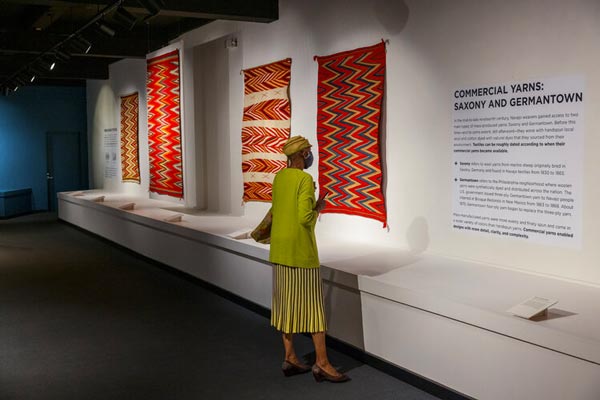 The Montclair Art Museum has added its own element to the traveling exhibition, in collaboration with Larissa Nez, an Art Table scholar who grew up on a Diné reserve. The room "highlights the perspectives on weaving of culture holders who are not weavers and how weaving is integrated into their culture," says Allen.
In a video curated by Nez, contemporary Diné artist Ramona Keoni weaves a textile for one of composer Connor Chee's piano pieces. Each composition was inspired by an element of Navajo culture.
"When I thought about how I would create music that looks like weaving," writes Chee, "I thought if the loom was an instrument, it would sound like the harp. The fingers (of weavers) are so skillful. It relates to what I do on the piano.
"Despite everything that happened to the Diné," says Allen, "the weavers continued to innovate, experiment and maintain their resilience while retaining their cultural roots."
---
Riot of color! How color changed Navajo textiles is on view at the Montclair Art Museum, 3 South Mountain Avenue in Montclair until January 2022. Mark your calendars for these upcoming programs associated with the exhibition:
* Thursday 9 December 7 p.m. – Babson Conversation between Venancio Aragon and Eric-Paul Riege, moderated by Laura Allen
* Friday December 10 evening – Teen event / program with Eric-Paul Riege
* Saturday December 11, time to be determined – Performance of duration Eric-Paul Riege in Riot of color! galleries
---
About the Author: Ilene Dube is a writer, artist, curator and filmmaker.
Content provided by
Discover Jersey Arts
, a project of the ArtPride New Jersey Foundation and the New Jersey State Council on the Arts.