Flashlight Egg Hunt, Art Show, St. Patrick's 5K – Shaw Local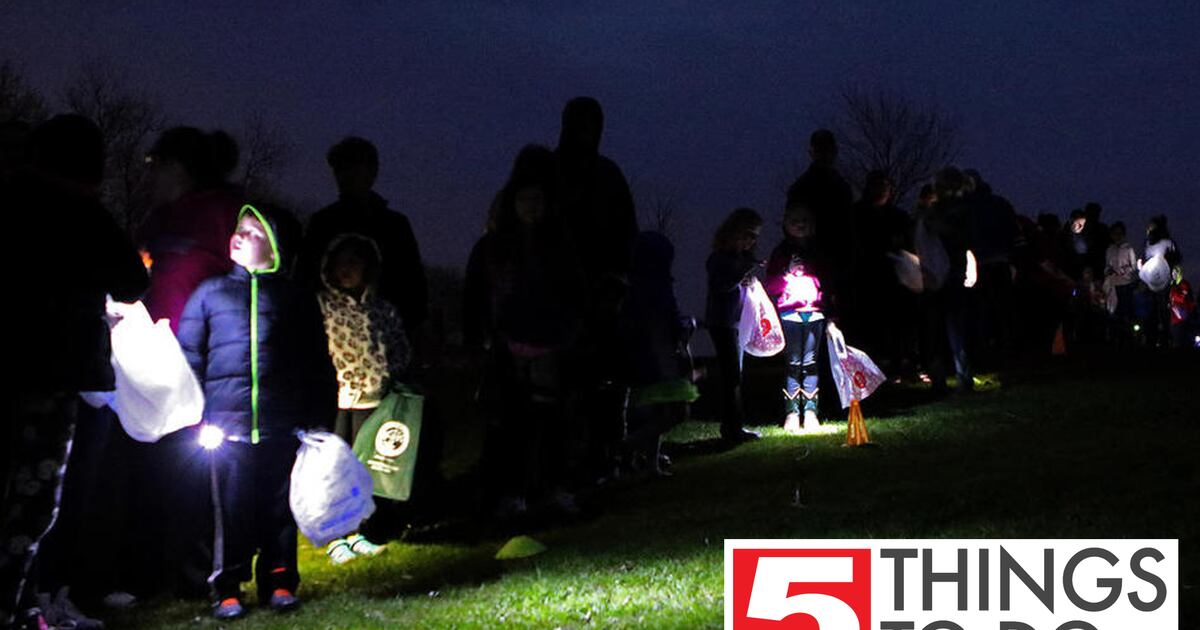 1. There will be a flashlight easter egg hunt on friday march 18, in Towne Park in Algonquin.
The event, which begins at 8 p.m., is open to ages 5 and up. Egg hunters will be divided by age.
The traditional Egg Hunt is scheduled for 10 a.m. on April 9, also in Towne Park. This egg hunt is open to participants from newborns to 12 year olds only, with participants separated by age. There will be 10,000 eggs to collect as quickly as possible. All participants must be accompanied by an adult for the duration of the event.
For more information on the two Algonquin egg hunts, go to algonquin.org.
2. new beginnings The Art Exhibit at The Dole opens Friday, March 18 with a special event featuring a photo booth, scavenger hunt, and coloring and watercolor stations.
The family event is free, but donations are appreciated. It will take place from 5 p.m. to 8 p.m. Friday at The Dole, 401 Country Club Road, Crystal Lake. There will be live music, a cash bar and a raffle at 7:30 p.m.
The exhibition, featuring the work of students from non-profit art studios Creative Arts and professional artists, will be open from 9 a.m. to 5 p.m. Monday through Friday. The gallery doors are sometimes closed, but the Dole team will open the doors for visitors to view the artwork.
Creative Arts Inc. is a non-profit studio located in the historic Art Cottage on the grounds of The Dole Mansion.
For more information, visit www.thedole.org.
3. The St. Patrick's Day 5K will run along State Street in Hampshire on Saturday March 19.
The timed race will begin at 9 a.m. from the Copper Barrel, 172 S. State St., which will host the after-party. An awards ceremony will take place during the after-party, with medals for the top three entrants, male and female, in each age group.
All runners will receive a bib number, a festive three-quarter sleeve baseball shirt and a green beer. Shirt sizes may become limited as race day approaches.
Race items can be picked up at the Hampshire Township Park District Office, 390 South Ave., Hampshire, during office hours this week or on race day from 8:15 a.m. to 8:45 a.m. at the Copper Barrel.
Online registration ends Friday at 4 p.m. Registration will be open in person only on race day from 8:15 a.m. to 8:45 a.m. at the Copper Barrel. The cost is $40 for residents and $45 for non-residents.
Online race results will be posted online at www.j3timing.com/race-results.html. Participants must complete in 75 minutes.
For more information, visit runsignup.com/Race/IL/Hampshire/StPatricksDayFunRun5k.
4. Windy City Dueling Pianos will play Saturday night at the Offsides Sports Bar and Grill, 680 Eastwood Drive, Woodstock, in honor of St. Patrick's Day.
A limited number of VIP tables for the show, which runs from 7 p.m. to 10 p.m., can be reserved for $60 for a table of four or $30 for a table of two. Reserved seats will be available starting at 5 p.m.
A special corned beef and cabbage dinner will be offered.
For information or tickets, go to bit.ly/OffsidesDuelingPianos.
5. Broken Oar – Marina Bar & Grill continues the second weekend of its ball of clovers with Irish dancers on Thursday and Sunday and a series of bands until Sunday afternoon.
Doors open at 4 p.m. Thursday at the Broken Oar at 614 Rawson Bridge Road, Port Barrington. Admission is free on Thursdays for St. Patrick's Day.
Irish dancers will perform at 6 p.m., followed by Vinyl Goldmine at 7 p.m. and DJ Karaoke at 9 p.m.
Friday and Saturday will be for people 21 and over, with Gooroos at 6 p.m. and Libido Funk Circus at 9 p.m. on Friday, and Wedding Banned at 3 p.m., Rumor Hazik at 6 p.m. and Pino Farina Band at 9 p.m. Saturday. Doors open at 5 p.m. on Friday and 2 p.m. on Saturday.
On Sunday there will be more Irish dancers at 1.30pm, and Hi Infidelity will perform at 2.30pm. Doors open at 1 p.m.
For more information, visit brokenoar.com/events. Tickets can be purchased at buytickets.at/brokenoar/651352.
Would you like your event to appear in this weekly section? The first step is to submit your events to the Northwest Herald Community Calendar at shawlocal.com/northwest-herald/local-events/ where they are then considered for inclusion in this feature.