Avenues of connection to Fri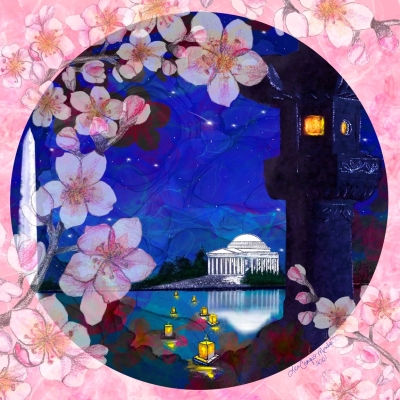 Washington, D.C. 04/15/2022
The Ven Embassy Row Art Gallery opens for a new exhibition featuring the work of Official Artist of the National Cherry Blossom Festival 2022, Lea Craigie-Marshall
What: New exhibition featuring the work of official artist of the National Cherry Blossom Festival 2022, Lea Craigie-Marshall
Who: The Ven at Embassy Row Hotel in collaboration with artist Lea Craigie-Marshall presents "aFRIues of connection blossom", all new original works by Lea Craigie-Marshall
Or: The Ven Embassy Row Hotel, located in the heart of DC near Dupont Circle, 2015 Massachusetts Avenue NW, Washington, DC 20036
When: Sunday April 24, 2022 from 2 p.m. to 4 p.m., opening with free refreshment bar. The exhibition will be available from the opening date until Tuesday, May 31, 2022 with free tickets available on Eventbrite.
RSVP: All print and broadcast media are invited to attend and confirm their attendance to [email protected]
Media: Media interested in photos or interviews with the artist should contact: Jennifer Goodman at 205-887-6531 or Jan Du Plain at 202.486.7004. Media If you would like interviews with Ven Embassy Row or Crescent Hotel executives, please contact: Angela Coner of Crescent Hotels & Restaurants 703-261-5878
The art gallery: Located on the lower level of the lobby, the gallery, called aVENues of connection, features rotating works of art by local, national and international artists, curated to spark curiosity, conversation and connection.
About Lea Craigie Marshall
Born in Falls Church, VA, and raised in Washington DC and West Virginia, Lea had the best of culture and politics in Washington DC and the natural beauty of the mountains of WV. It is not surprising that these are important themes in his contemporary work today. Lea was also heavily influenced by her mother and grandmothers, each with impressive artistic skills. Lea hopes to elicit unexpected emotions in the viewer through her ingenious use of experimental mediums and provocative subject matter. Whether it's a beautiful portrait, a mural, a sculpture installation or a controversial political/social piece, you're sure to leave inspired. Follow on Facebook at @Bluehuestudio and on Instagram @Bluehuestudio. For more information send an e-mail [email protected].
About The Ven at Embassy Row
The Ven at Embassy Row is part of Marriott's Tribute portfolio and is located in the heart of Dupont Circle at 2015 Massachusetts Ave NW, Washington DC 20036. The newly renovated hotel features 231 vibrant rooms and suites in addition to more than 1,300 square feet squares of meeting space and private event space. On-site dining options include the globally-inspired full-service restaurant Fred & Stilla, in addition to a 24-hour chef's pantry for on-the-go shopping. The hotel also offers an on-site art gallery with rotating artists, a rooftop pool and sundeck with space for private events, a 24-hour fitness center, a variety of meeting spaces and valet parking. Follow on Facebook at @TheVenEmbassyRow and on Instagram @thevenembassyrow. For more information visit www.thevenembassyrow.com or email [email protected].
About Crescent Hotels & Resorts
Crescent Hotels & Resorts is an award-winning, nationally recognized operator of hotels and resorts. Crescent currently operates more than 100 hotels and resorts in the United States and Canada. Crescent is one of the few elite management companies licensed to operate upscale and luxury hotels under the Marriott, Hilton & Hyatt families of brands. Crescent also operates a collection of independent hotels and resorts under the Latitudes Collection umbrella. Crescent's clients include leading REITs, private equity firms and large developers.
For more information, visit www.crescenthotels.com
About Marriott Hotels
With more than 550 hotels and resorts in more than 60 countries and territories around the world, Marriott Hotels evolves travel across all aspects of guests' stay, helping to relax, clear the mind, energize new ideas and anticipate travellers' needs, leaving them inspired to reach their full potential. Boldly transforming itself for mobile and international travelers who mix work and play, Marriott leads the industry with innovations including the Greatroom lobby and Mobile Guest Services that elevate style, design and technology. To learn more, visit www.MarriottHotels.com. Stay connected with Marriott hotels on Facebook, @marriott on Twitter and @marriotthotels on Instagram. Marriott Hotels is proud to participate in Marriott Bonvoy, the new name for Marriott's travel program replacing Marriott Rewards®, The Ritz-Carlton Rewards® and Starwood Preferred Guest® (SPG). The program offers members a an extraordinary portfolio of global brands, experiences on Marriott Bonvoy Moments, and unparalleled benefits, including earning points for free hotel stays and nights toward Elite status recognition. To join for free or for more information about the program, visit MarriottBonvoy.marriott.com.
###
Press contact: Jan Du Plain (202) 486-7004