Attend an Art Festival, Have a Pint at Oktoberfest: 8 Events to Attend in the Heights, River Oaks, and Montrose Areas in October 2021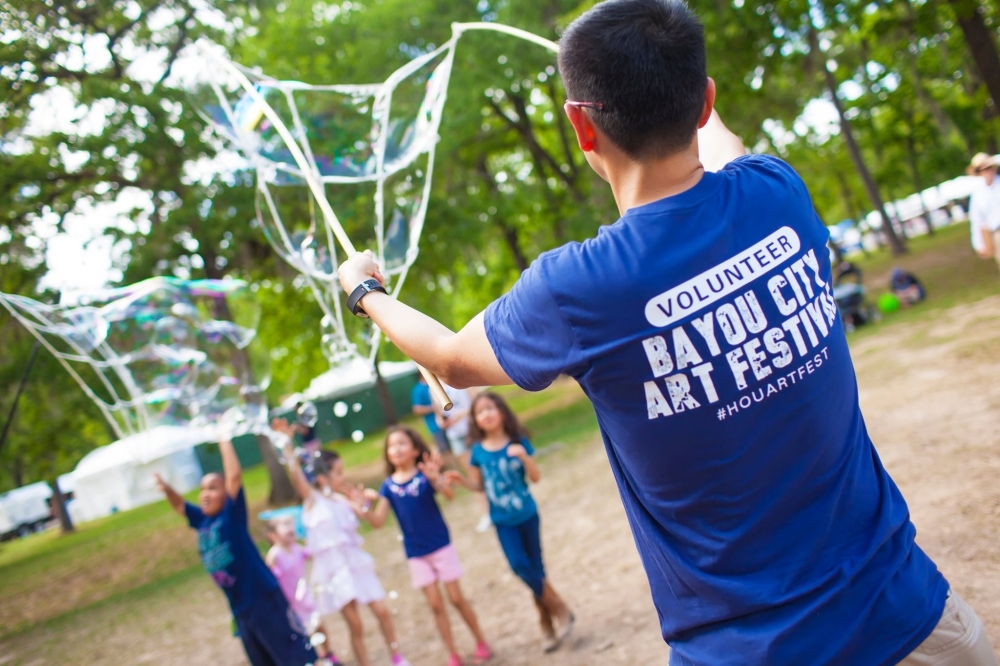 The Bayou City Art Festival is back. (Courtesy of the Art Colony Association)
There's a lot going on in and around the Heights, River Oaks and Montrose areas in October, from attending an arts festival to having a pint at an Oktoberfest celebration .
Learn more about green infrastructure at the symposium October 6-7
The annual event, hosted by the Bayou Preservation Association, features two days of discussion between Houston leaders, local agencies and experts on the city's green infrastructure and the path to a sustainable and resilient future. 8 a.m. (Oct 6), noon (Oct 7). $50 ($10 with young professional or teacher discount). Virtual event. 713-529-6443. www.bayoupreservation.org
Visit an art festival on October 9 and 10
The Art Colony Association, the producer of the Bayou City Art Festival, once again welcomes artists, patrons and supporters to the annual event. The festival will feature featured artist McKenzie Fisk while offering patrons the opportunity to meet artists, view original works and purchase artwork from 19 artistic disciplines. 10am-6pm •$18 (adults), $5 (6-12 years old), free (6 years old and under). Sam Houston Park, 1000 Bagby Street, Houston. 713-521-0133. www.artcolonyassociation.org
Grab a pint at Oktoberfest on October 22 and 23
Guests can enjoy live Polka music, German food and beer vendors, and a variety of Olympic games, including mug racing, barrel rolling, mug lifting, and sausage throwing. 5pm-10pm (Oct 22), 1pm-10pm (Oct 23). $25 (in advance), $35 (at the door). Water Works at Buffalo Bayou, 105 Sabine St., Houston. www.oktoberfesthouston.com
Trick-or-treat at the Houston Arboretum on October 23
Members and the general public are invited to grab a costume and hit the trails at the Houston Arboretum's annual ArBOOretum event, featuring train rides, pumpkin decorating, a petting zoo with pony rides, a Halloween market, a rock wall, and sleight of hand tricks. 10 a.m.-4 p.m. Free (members and children under 3), $15 (non-members). Houston Arboretum, 4501 Woodway Drive, Houston. 713-681-8433. www.houstonarboretum.org
Evening of support for the Menil Collection on October 28
The Menil Collection is launching its new fundraiser, Party in the Park, to raise funds to support the operation of the free museum. The event, which will take place in Menil Park, will feature cocktails, appetizers, multiple food stations and entertainment. 7-10 p.m. $500. Menil Park, 1423 Branard Street, Houston. 713-535-3173. www.menil.org
Catch a show at a local theater
Steps
800 Rosine Street, Houston
713-527-0123
www.stageshouston.com
"Hook's Story"
Dates: October 1 to 17
Opening hours: 8 p.m. (Friday and Saturday), 2:30 p.m. (Sunday and some Saturdays), 7:30 p.m. (Wednesday and some Thursdays)
Cost: $25 to $79
"The 25th Annual Putnam County Spelling Bee"
Dates: Oct. 15-Nov. 14
Opening hours: 8 p.m. (Friday and Saturday), 2:30 p.m. (Sunday and some Saturdays), 7:30 p.m. (Wednesday and some Thursdays)
Cost: $25 to $79
4th Wall Theater Co.
1824 Spring St., Studio 101, Houston
832-767-4991
www.4thwalltheatreco.com
"A Dollhouse, Part 2"
Dates: Oct. 14-Nov. 6
Opening hours: 7:30 p.m. (Thursday-Saturday), 3 p.m. (Sunday)
Cost: $17 to $53