Art in Public Space II, an annual art festival is held in Addis Ababa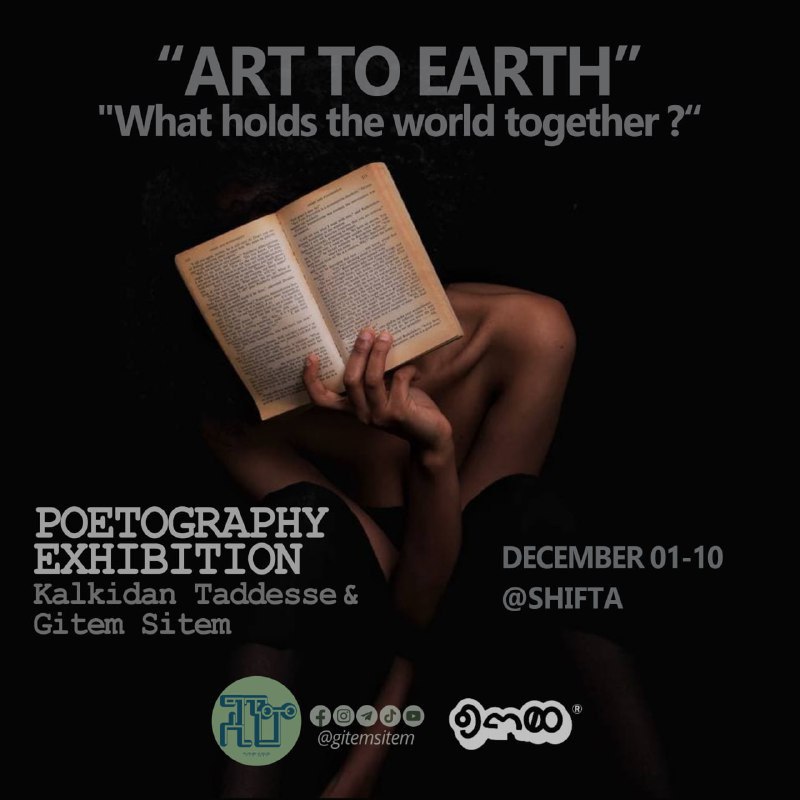 Since 2017, a consortium of 12 different organizations has launched an annual art festival Tibeb be Adebabay (the Amharic expression equivalent to the English term art in public space). This year, the festival takes place with "the idea of ​​filling the streets of Addis Ababa with cultural activities to meet, explore and enjoy," read the message from the festival's official website.
The 2021 'Art to Earth' themed art festival is fascinating, with a hybrid platform, offline and online, which hosts various performances. Poetry, music, theater and dance, video projection, exhibitions, fashion shows, round tables and round tables, storytelling, cycling and skating festival in the streets were part of the activities until now!
Last week I attended one of the online events, a panel discussion on climate change and its emerging influences: a dissection of the future, it was very interesting and well organized, bringing together experts from the 'environment and cultural practitioners such as Meskerem Assegued, founder of Zoma Center for Contemporary Art and Museum, anthropologist, curator and writer with the sharing of her experiences and practices which says that, as we all know, the environment at this stage is at a critical stage. Today, the depletion of natural resources has the high costs of tomorrow. We must therefore think of the generations to come.
Festival organizers say what brought us together is our shared passion to promote art and creativity, which is also the goal of Tibebe be Adebabay. It is our collective work with the support of the steering committee that brought this extraordinary festival to life.
Follower of their social media events with nostalgic memories of my hometown Addis Ababa, the art festival is an admirable initiative that gives so much meaning and values ​​to our society.
I would like to warmly congratulate the organizers. Dear readers, find below the official press release sent to the Pressenza press agency by the Tibeb team.
Monday, November 29, 2021, Press release
It's Tibeb's time again!
From Sunday November 28 to Friday December 31, Tibeb Online, in collaboration with Tibeb be Adebabay, will offer a range of physical, digital and hybrid cultural and creative experiences. Organized under the general theme "Art to Earth" and with the support of EUNIC Global, this year's experience will feature a range of content produced by Ethiopian and European artists, creators and curators from different backgrounds.
In 2017, the Ethiopian Goethe-Institut, in collaboration with a number of Ethiopian artists and cultural practitioners, would launch Tibeb be Adebabay (Amharic for ―art in public space‖), an annual art festival that aims to bring out the art from studios and galleries. and in the public space. Tibeb be Adebabay offered a new perspective on what city life can be like. With this in mind, the creatives used the public spaces of Addis Ababa through mobile suks (Amharic for ―kiosks‖) in order to involve everyday people in various artistic and participatory performances and interventions.
After the festival's success between 2017 and 2019, Tibeb be Adebebay will benefit in 2020 from the support of the European Houses of Culture initiative of EUNIC Global, allowing it to explore different models of cultural cooperation. However, when the COVID-19 pandemic forced people to return home, Tibeb be Adebabay was no longer able to engage with the public in the physical public space; Tibeb be Adebabay 2020 needed to go live.
Throughout 2020, Tibeb be Adebabay, in close cooperation with EUNIC Ethiopia, continued to facilitate cultural encounters through physical, digital and hybrid platforms, laying the groundwork for Tibeb Online, a creative online platform that connects the arts and the people. At the end of the year, Tibeb be Adebabay will transition from an annual festival to an independent actor in the Ethiopian cultural scene while EUNIC Ethiopia's Tibeb Online project has been launched with the aim of strengthening creative networks.
In 2021, Tibeb Online and Tibeb be Adebabay would merge under the "Art to Earth" banner to explore new methods of cultural engagement with concern for society and the environment. Equipped with lessons in virtual cultural programming, the 2021 experience specifically aims to support cultural networks in Ethiopia, facilitate knowledge sharing and build the capacity of creative professionals through inclusive exchange platforms.
Semi-public events organized by 20 artists and creative collectives from different disciplines will be held throughout the city and online, accompanied by a range of activities complementary to the festival. In doing so, participants communicate the global value of art as well as its power to address a range of social and environmental issues. Events will be accessible to a maximum of 50 people due to COVID-19 security restrictions as well as an online audience for selected activities.
Tibeb Online is a project of EUNIC Ethiopia and its partners. EUNIC – National Institutes for Culture of the European Union – is the European network of national cultural institutes and organizations, with 36 members from the 28 EU Member States.
Duration of the program
Offline: from Sunday November 28 to Sunday December 5, 2021 Online: from Monday December 6 to Friday December 31
Program locations
Offline: Goethe-Institut, Instituto Italiano di Cultura, Alliance Française, Shifta and others (by invitation only due to COVID19 security measures)
Online: www.tibebbeadebabay.org
Photo credits: Team Tibeb